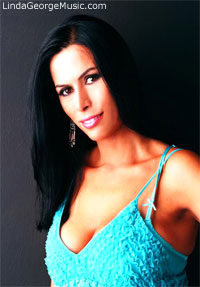 With all the controversy surrounding the Middle East today, we never think of that part of the world in terms of art, poetry: beauty itself… But Linda George, born in Baghdad, is a true living picture of that artistic beauty. This songstress will take your thoughts to another level. Her rhythmic, sultry voice will appeal to your soul, where art, poetry and beauty live.

Linda has been singing since she was a little girl: her career began at the tender age of five. She was the church choir soloist in Baghdad, where she appeared on national television.

Like many other Assyrians, she eventually moved to the United States with her family. By that time, even as a young girl, Linda was already established in the Assyrian market.

Now living in California, with fourteen very successful albums under her belt, including two Christian albums, Linda feels she has reached her peak in the Assyrian market and it is time to be expanding worldwide - and lucky for us!

Linda has been inspired by singers like Anita Baker and Barbara Streisand. Linda has pulled the soul of Anita, clarity and strength of Barbara…. and added her own unique flair. Powerful and smooth, her voice commands attention.

Linda has worked with numerous respected musicians, from renowned pianist Howard Levy, Big Mak, Craig Portiels, performers from the Chicago Symphony Orchestra, as well as top Assyrian composers and musicians.

Linda has received international recognition for her musical achievements. For her 10th anniversary as an artist - and the first time in the history of Assyrian music - Linda was awarded with a Golden Record. In Chicago, the Assyrian American National Federation presented her with the Golden Voice award for Best Assyrian Singer. She was crowned in Sweden on November 29th, 1997 for her outstanding performance.

Linda's also modelled in the past. She has modelled for many salons and done catwalk modelling for top bridal designers.

She enjoys horseback riding, box aerobics, and exercising - which explains her endless energy!

Linda dreams to be recognised at The World Music in Monte Carlo. She believes we are all God's children and belong to one great world harmony. This is music, where you find real peace.